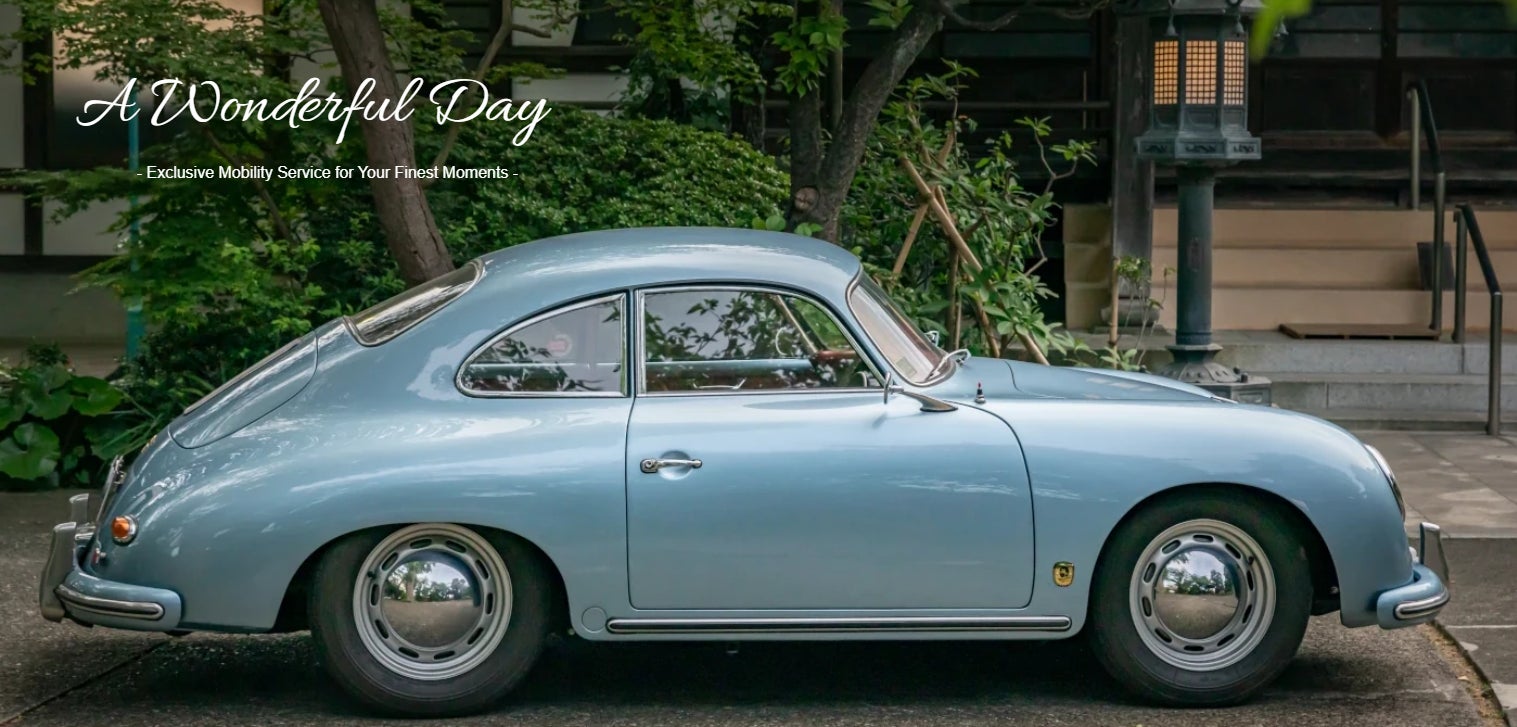 2023.11.01
"A Wonderful Day," where luxury mobility meets the high standards of UHNWIs visiting Tokyo, Japan!
Gift Life, the company that prosduces web catalog gifts for discerning customers in Tokyo's luxury hotels, proudly presents 'A Wonderful Day,' a high-value mobility experience service for affluent international visitors in Japan. With the corporate slogan `Harenohi Company,' and under the visionary leadership of CEO, Marehiko Yamada, we're leveraging the mobility assets of our parent company, Bridal in Project Co., Ltd. Starting November 1, 2023, customer can experience this incredible service at limited hotels and in partnership with specific credit card members. Stay tuned as we fine-tune our offerings based on various needs, and get ready for the grand unveiling of our full-fledged service in the spring of 2024.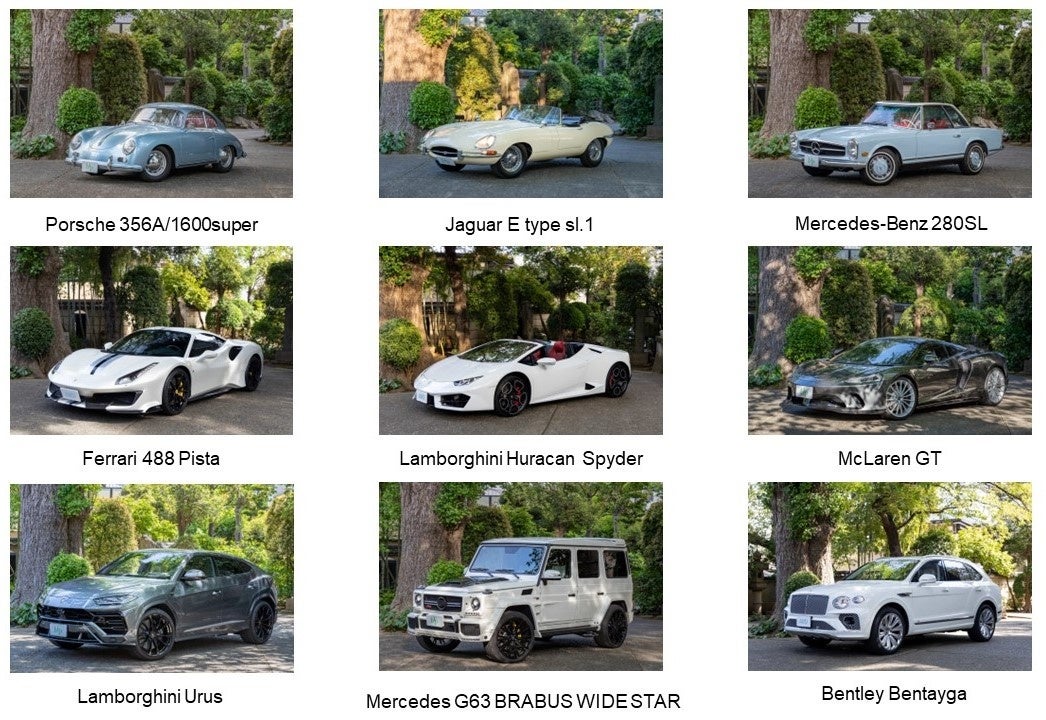 Mobility Lineup (FYI)
"A Wonderful Day" was born out of a desire to address the transportation challenges faced by affluent foreign tourists in Japan, with the vision of allowing them to experience Japan as freely, elegantly, and richly as if it were their own homeland. This service offers a range of high-value mobility assets, such as classic cars, supercars, luxury SUVs, pleasure boats, and helicopters, to the foreign affluent demographic through the concierge services of sophosticated luxury hotels in Tokyo and as a benefit service for premium card members.

"A Wonderful Day" is a service designed to cater to the diverse requests of long-term foreign affluent visitors, and it operates on a referral and invitation basis, with a necessary screening process for those seeking direct use. As of November 2023, "A Wonderful Day" aims to contribute to Japan's tourism initiatives by providing foreign tourists with the opportunity to deeply experience Japan's beautiful landscapes and rich culture.
Step into a world where you can experience the thrill of driving, from the rare 1950s Porsches to the classic 1960s Jaguars, the iconic 1970s Ferraris, and the renowned 1980s Mercedes-Benz models, to the latest supercars, convertibles, and luxury SUVs. These aren't just cars; they are time machines of automotive excellence, ready to take you on a heart-pounding journey filled with excitement and adventure.

Embark on a voyage of exploration aboard the elegant 33-foot Aqua Riva, ideal for navigating Tokyo Bay. Or set your sights on a grand adventure aboard a super yacht or pleasure boat exceeding 80 feet, perfect for indulging in everything from unforgettable parties to luxurious overnight getaways. It's a European-inspired, luxury cruising experience on the water with your loved ones, guaranteed to leave you absolutely exhilarated.

Imagine a spacious helicopter with seating for six, a gateway to the extraordinary – quite literally, it offers an escape from the ordinary, providing a luxurious airborne experience and a truly elegant journey through the skies.

At A Wonderful Day, we redefine 'cars,' 'boats,' and 'helicopters' as not just modes of transportation but as partners that offer you a unforgetable day, not merely a means of mobility. With partners that transform travel time into finest moments, we are here to support you on a journey where every moment becomes a special day – A Wonderful Day.
Comment from Hiroshi Tabata, former Commissioner of the Japan Tourism Agency
In the post-COVID era, there has been a significant push at the national level to attract affluent travelers. The affluent demographic, in particular, seeks seamless and comfortable travel experiences, and 'A Wonderful Day' is an innovative program that can fulfill these desires. We aim to provide a luxury experience of Japan's diverse attractions.

Mr. Hiroshi Tabata's Profile:
1981: Graduated from the University of Tokyo's Faculty of Law, joined the former Ministry of Transport.
2002: Chief of the Tourism Promotion Division, General Policy Bureau, Ministry of Land, Infrastructure, Transport and Tourism.
2009: Director of the Tourism Regional Promotion Division, Japan Tourism Agency.
2015: Chief of the Minister's Secretariat, Ministry of Land, Infrastructure, Transport and Tourism.
2016: Councillor, Ministry of Land, Infrastructure, Transport and Tourism.

Hiroshi Tabata is from Aichi Prefecture.
■About Gift Life Co., Ltd.
Bridal in Project Co., Ltd. was established in 2002 as a wedding gift company. As a social entrepreneur, the company is actively engaged in social contribution and cultural preservation activities. In 2006, the company produced the 'Candle Project 2006,' in collaboration with 14 leading Japanese artists such as Yayoi Kusama, Hiroshi Senjyu, Mika Ninagawa to create charity candles, supporting the 'Make a Wish Japan' organization, which fulfills the dreams of children suffering from serious illnesses. During the East Japan earthquake and Tsunami, the company provided relief supplies to affected areas, and in the wake of the Russia-Ukraine conflict, the company supported scholarships for Ukrainian students studying in Tokyo, Japan.

Recently, Bridal in Project Co., Ltd. have extended their support to young entrepreneurs and startups who are likely to shape Japan's future. Moreover, the company not only regard cars as mere modes of transportation but also as cultural assets that have contributed to the advancement of humanity. The company maintain historically significant classic cars, preserving them in the best possible condition, with the intention of showcasing these valuable cultural heritage artifacts to future generations.
■Representative: Marehiko Yamada Greetings
-Exploring a New Japan Together-

A Wonderful Day (AWD) is a celebratory service aimed at affluent visitors to Japan in an era where ownership is shifting to shared experiences. Through the novel approach of sharing high-value mobility services, we aim to make Japan's tourism an experience of freedom and elegance.

Following the end of the COVID-19 pandemic, Tokyo is bustling with foreign tourists, thanks to favorable foreign exchange rates. Hotel prices have surged by three to five times. However, there are still numerous tranquil destinations in the suburbs offering affordable and serene experiences. World heritage sites, hot springs, and the beauty of changing seasons are all within easy reach. We encourage you to visit and explore these places.

Our primary mission is to connect Tokyo with its surrounding tourist destinations within a 200-kilometer radius, resolving transportation challenges. Furthermore, by utilizing high-value mobility options such as classic cars, supercars, pleasure boats, superyachts, and helicopters, we aim to turn the stress of travel into exciting and unforgettable experiences. Additionally, we seek to promote the shared use of assets, including membership-based lodgings and vacation homes, alongside luxury hotels and traditional inns. Our goal is to provide our customers with special options that allow them to enjoy Japan with the freedom and elegance of their own homeland.

While AWD's services operate on a club membership and referral basis, this choice reflects our emphasis on connecting people and building new communities with shared values. Simultaneously, we aspire to contribute to the sustainable economic ecosystem surrounding Japan's alternative investment assets.

The ultimate vision for AWD is to become a community of high-value alternative assets representing Asia. Through this community, we aspire to showcase the charm of Japan and Asia to the world. This is my dream.

In our journey towards experiencing A Wonderful Day together, we walk hand in hand with our customers, contributing to the formation of new communities and ecosystems. Our mission is to spread the allure of Japan and Asia worldwide. Your smiles are our greatest success and the driving force behind our daily efforts.

Thank you for your support!

Producer of A Wonderful Day
CEO of GIFT LIFE Co., Ltd
Marehiko Yamada

※Quoted from the ADW official website.


This NEWS is published on "PRTIME".
Please fill this out as well if you'd like.

https://prtimes.jp/main/html/rd/p/000000001.000132008.html